During pregnancy it's essential to eat a balanced diet rich in vitamins and nutrients, both to keep you healthy and energized during a demanding time for your body, and to help your baby form vital organs and brain power. These meal ideas all incorporate those essential elements for good health, and are also delicious for those ladies suffering from food aversions.
Total daily calories: 2200
If your doctor says you are underweight, you'll likely need about 2400 calories a day: Add an after-dinner snack from the snack list or double the size of one snack during the day.
If you started your pregnancy overweight, you'll likely need about 2000 calories a day: Only choose one snack each day.
1. Sprouts:
Sprouts are a great, nutrient-rich snack. They are also a good source of iron and fibre. Eat sprouts raw in a salad or bhel  or add them to raita. You can also put sprouts in paranthas or soups.
2. Oatmeal:
It is easy to make and rich in soluble fibers. Just add water or milk to oatmeal and microwave. Add some raisins to make it even healthier. Enjoy this healthy snack anytime. Avoid those instantly cooked packed oat meals as they may contain some flavor or color which may not be good for you. Oatmeal provides Healthy carbohydrates and fiber and potassium.
3. Smoothie:
Smoothies can really help you to deal with the fatigue or exhaustion and make you feel fresh. Smoothies are very easy to prepare. You can load up on your favorite fruits and vegetables in few minutes and whip up for a snack-on-the-go or just like an energy-booster. You can also whip your favorite varieties of fruits with yogurt to make a healthy smoothie as yogurt provides calcium, protein, vitamins, and minerals.
4. Dhokla:
Low on the calorie count but high in taste, dhoklas can be a great snack option. Fermented foods are generally high in probiotics, which help your digestive system along.   Add boiled vegetables like carrots (gajar), french beans (beens) and corn (makkai) to the batter for more nutrients.  If you have a dhokla cold, straight out of the fridge, you might find it soothing in hot weather and easier to take in if you feel queasy often.
5. Wholewheat sandwich
Try a tomato (tamatar) and cucumber (kheera) sandwich. Add lettuce for extra crunch and fibre. If you are a non-vegetarian, you can add in a slice of chicken ham. A sandwich can be refreshing in summer. It is easy to make and you might find it is one of the foods you can swallow easily when you have morning sickness because it's cold and light.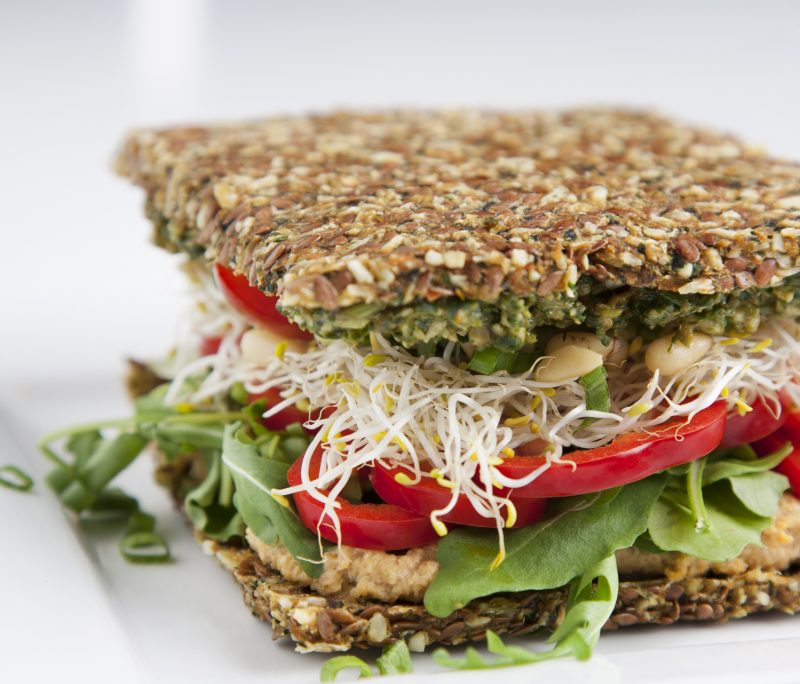 6. Puffed rice (murmura or chivda)
A versatile snack that is easy to make. Mix the murmura with chopped vegetables or add some roasted peanuts to make it more nutritious.
7. Kheer
Courtesy:  

Veg Recipes of India
You're bound to have cravings for sweet things at some point and a wholesome dessert is perfect. Try suji, rice or sabudana kheer. For a light, easy-to-digest, low-fat version, use double toned milk and substitute sugar with jaggery (gur).  Jaggery is a source of iron and you can throw in more nutrients and fibre by adding in nuts, raisins and dried fruit.
8. Sweet Potato Chips
Grate sweet potato into thin slices and coat them with a bit of cinnamon and sugar. Now bake them for 1 hour at 250 degree. Do not forget to check the oven after 15 minutes interval. If cooked properly these crispy chips can be very delicious and may be stored for later use.Nutrition Value: Fiber, potassium, and vitamins A, C, and B6
Courtesy: 

Paleo Grubs
9. Fruit Salad
Collect all the fruits available at home and cut them into small pieces. Take these pieces in a bowl. Add roasted cumin seed powder, black salt, chaat masala, lemon juice, chilli powder, green chutney, imli chutney and salt to taste. Toss them well and sprinkle few leaves of coriander and mint. You may also use yogurt if you do not want to use chutneys. This bowl is full of carbohydrates, proteins and iron.
10. Pav Bhaji
A good way to mix vegetables you do like with ones you don't and get the nutrients you need.  Make the bhaji at home so that you use a minimal amount of butter. And eat it with sesame (til) pav buns instead of plain pav buns to get Omega 3 fatty acids.
11. Poha
Much like puffed rice, flattened rice (poha) can be made into a healthy snack with chopped vegetables such as carrot (gajar), tomato (tamatar), onions (pyaaz), beans (beens) or roasted peanuts added in.  Add a few drops of lime juice as well for the taste and the vitamin C.
12. Yogurt with Cereal
Replace those refined grains like with wholegrain snacks, like oatmeal, broken wheat meal, etc. They are loaded with fiber, vitamins, minerals, including folic acid and potassium, and also antioxidants. You can flavor them with raisins and berries or whip in a little yogurt for an extra dose of nutrition.
 13. Vegetable Cutlets / Tikkis
This filling snack is rich in nutrients, protein and dietary fibre and gives you an energy boost.  Use mashed potatoes (aloo) as your base and mix in chopped vegetables, leafy greens, chopped paneer or mincemeat to make your tikki.   Put just enough oil for the tikki to not stick to the pan and brown it on both sides. Eat your tikki with mint (pudina) and coriander (dhaniya) chutney for added iron.
14. Roasted Chana
An easy-to-carry snack that helps you get fibre, iron and omega 3 fatty acids.
15. Trail Mix

Make your own favorite trail mix with a cup of wholegrain cereal and a handful of dried cherries, almonds, dried cranberries, dried walnuts and apricots, cashews, pistachios, and raisins as well. This will act as a nutritional powerhouse filled with fiber, iron, potassium, and other minerals and vitamins as well, with a lot of protein and essential fats.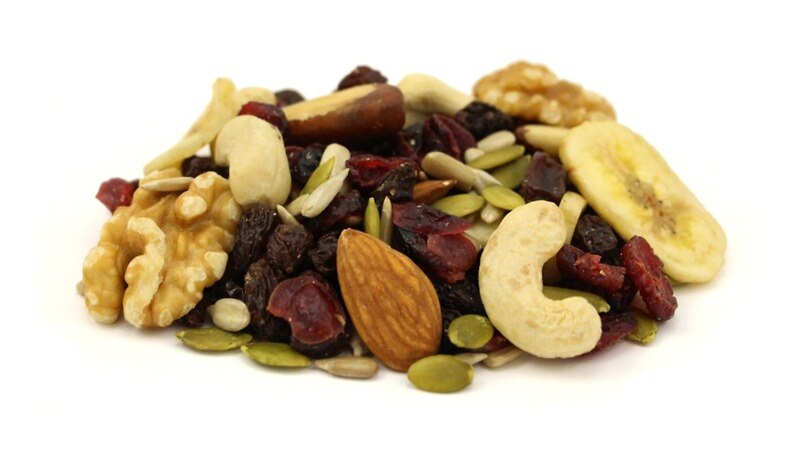 16. Upma
Upma is a good way to get protein and fibre.  Try iron fortified semolina (suji) and mix into your upma a variety of vegetables for added nutrition.